They share the same first name, dominate the same sport, and have now won the same award. Jacquelyn Johnson of ASU has been crushing the competition in track and field since she was in high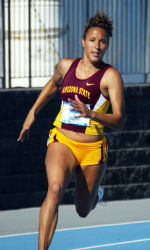 school and is striving to follow the footsteps of the great Jackie Joyner. I actually believe I might have even seen her compete at a few track meets back then. She attended high school in Yuma AZ before joining our stellar team here at ASU. Jacquelyn Johnson has been awarded the Honda Sports Award for Track and Field. She was voted the top female college track and field athlete in the nation. This is the same award that female athlete/icon Jackie Joyner-Kersee won back in 1983 and 1985. Jackie holds records in the heptathlon and pentathlon and is supposedly ranked first amongst all American female athletes in these events. We're very proud of her as well as all of the members of our track and field teams both men and women. They both won national indoor championship titles and the women have won the last two indoor championships as well as the outdoors in 2007.
Upon further research, it has come to my knowledge that the ASU women's team took 2nd in this years outdoor meet. LSU just nudged them out with a score of 67 team points besting ASU's 63 points. The men's team took 6th in Wisconsin at the same meet. I know it's kind of a disheartening end to an otherwise happy post, but you know… I guess Jackie can't do it all right? No I didn't mean that, we actually have some really good athletes out there. I'm sure it was just a bad night for a few of them.
Anyway, I know there's been basically nothing but sports posts since the site's been up. I've, a little regrettably, had to snack off the platter of asu.edu's news feed for some of the updates on these events but it wont last long I assure. You'll all be happy to know we've got some new writers coming to town on this baby and they've given me their word they're going to take the opportunity and run with it so stay tuned. Should be a fun ride ahead!