"NO cheer squad next year at ANY football, basketball or other sporting event games. The only form of "cheer squad" that will remain is the megaphones and signs. Which will not be called the cheerleaders, but instead "Sparky's Crew."
This a statement by ASU's athletic director, Lisa Love, back in the first part of May 2008. The ASU cheer squad has been cut from the athletic program and will not return this coming school year.
Now I must admit, I've never been one to hold any type of regard for cheerleaders and I've always seemed to hang on to the stereotypical image that cheer leaders have been given. In high school I would poke fun at their nonsensical comments that seemed to have no intellectual value of any sort. Though I did date a cheerleader in high school I of course considered her to be an exception to the rule at the time. All my life I've looked at cheerleaders as a flashy but annoying sideshow for sporting events. Now, a junior in college at Arizona State University, I'm sort of having a slight change in heart as to their importance.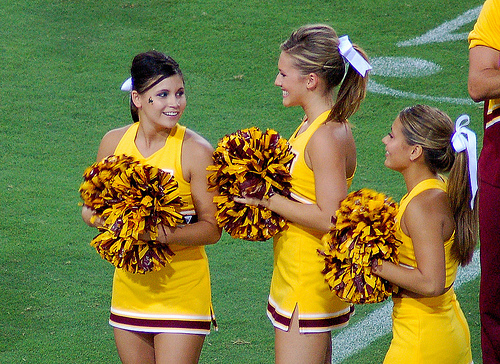 I know the squad, and ASU girls in general for that matter, has had it's fair share of obscenity and what I like to call "bad rep" moments. This past year a picture of 6 of the members of the squad was posted on a blog. The picture showed these six young ladies wearing nothing but their underwear and was undoubtedly a very raunchy and obscene photograph. This is bad for the image of ASU cheerleaders and is bad for the image of Arizona State University itself.
However, I do feel bad for many of the other ten plus cheer leaders on the squad that had nothing to do with these actions that were definitely uncalled for. I actually happen to know two of the members of last year's ASU cheer squad, who's names I won't disclose, and they are quite bright and well-mannered individuals. They are active participators in their church and hold high moral values and are great examples and role models to me. They work hard and dedicate a great deal of time to cheer and it is unfortunate, I think, that they should have to suffer the consequences of other's actions.
But, that's the way the cookie crumbles sometimes I guess. At any rate, as of now, there will be no cheerleaders on the sidelines of ASU football, basketball, or any other sporting event this upcoming school year. No, we will be settling for what Lisa Love is calling "Sparky's Crew." This crew will be the cheer squad without the cheerleaders apparently. There will be banners, signs, megaphones, and other cheer-along materials or devices but no "cheerleaders." Is this good for ASU? I'm not sure I'm convinced yet. On one hand, maybe the student section will be a little more focused on the games then the beautiful women on the sidelines. I really don't think there will be a decrease in sports attendance that can be directly correlated with the lack of the cheerleaders on the floor, but I do think that the games may lack a bit of culture or natural feel to them.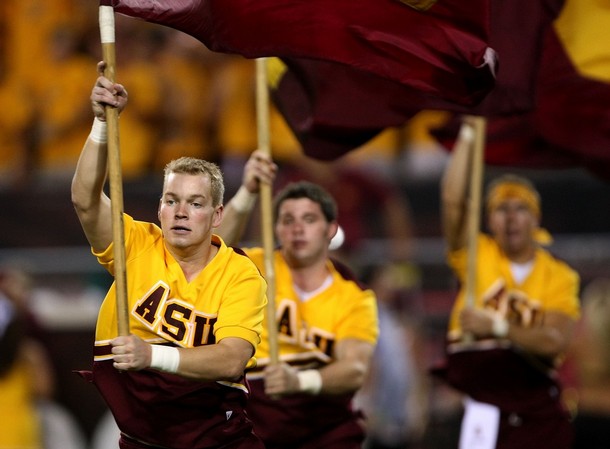 I mean, I don't think I've ever seen a college football game where there were not cheerleaders on the sidelines dancing, smiling, and doing everything in there power to get the crowd to back up the team. Maybe this is a new era for ASU sports and it may possibly turn out to be ok in the long run. I guess only time will tell. I'm not sure how much I'll miss having the cheer team there but since they won't be, I will keep cheering for the devils regardless. I hope we all will rally around our teams this year as 2008-2009 proves to be a promising year for ASU sports. The cheer squad may not be there to enjoy it, but that doesn't mean we as a student body can't be there. Lisa Love can't cut "US" as fans from the athletics program so let's get out there and gear up for a great year of ASU sports. And hey, if nothing else, you can always count on Sparky to be there throwing down 100+ push-ups per game for each point the devils score! That alone should be exciting enough to get people psyched for August 30th.