I've been pondering a great deal recently in regards to some of the amazingly outstanding, unreal, unforgettable, insurmountable, mind boggling, outrageous, and (insert any and all known adjectives here) memories and experiences I've been through over the past couple years that I've been a student at the one and only Arizona State University. From bewilderingly high priced text books at the ASU bookstore, Strikingly poor (and this is being kind) English skills put on display by too many TAs to count, and sketchy at best grading policies imp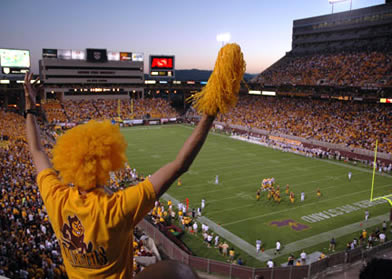 lemented by nutty professors, to incomparable food selection, beautiful women (handsome young men if you're a girl), and national championship sports teams, there's none that can compete with the reality and hype of ASU.
That said, I've decided to start this blog for all those who hold a special place in their heart for Arizona State University. Let us come together as one and enjoy the sharing of everything ASU has to offer. Whether you're a sports fan, science nerd, StatePress critic, Athlete, Teacher, or Mr. Crow himself, I hope you find joy, excitement, bitterness, good ideas, and, if nothing else, controversy in the posts and news that will be updated, hopefully quite often, on this site. This is a public site so feel free to comment and leave your mark, but please refrain from all forms of profanity and ill manners as we would like all to be able to enjoy the reading. If you like what you see, tell your friends and allow them to indulge as well. Also, feel free to email your ideas for new stories and anything you'd like to hear about.
-Jkieth
jkieth@asu.edu